Description
KiwiColour Roofing Iron Sheets

New Zealand's stunning natural beauty comes at a cost - it's also one of the harshest environments in the world.
Intense UV damage, salt-laden air and heavy weather conditions are just some of the factors.
That's why - as a local Kiwi business - we're committed to bringing you resilient materials specifically designed for the unique and wild beauty of Aotearoa.
15 year warranty
ASNZS 2728

Delivered direct from factory, or pick up available from various depots around NZ
Roofing
KiwiColour Roofing Iron Vitor+ 0.4mm TRS 5
KiwiColour Roofing Iron Vitor+ 0.4mm Corrugate
$21 per lineal metre
(E.g. if you need 7 x 3.9m, that would be 27.3m in total.)
Fasteners (pre-painted)
Universal 12g x 65mm - 50 pack
$35
Universal 12g x 50mm - 50 pack
$30
Flashings
Email to order
$17-31 per lineal metre
Delivery
$145 delivery fee (delivery areas below)
We currently don't have this set up to order online. Please email or call us with your order. We will send you an invoice for credit card or direct debit payment.
Let us know:
Lengths and quantity required
Colour
Delivery address
Phone number
$145 delivery in the following cities (non-rural). If outside these areas please ask for a quote first. These usually need to be manufactured upon order so delivery can take 5-10 working days. However there can be delays outside of our control so we can't guarantee a delivery date.
Pick up may also be available from these cities (with no delivery charge).
Auckland

Hamilton

Tauranga

Rotorua

Palmerston North

Wellington

Christchurch

Timaru

Nelson
TRS 5
Minimum roof pitch: 3 degrees

Effective cover: 765mm

Thickness: 0.4mm

15 year warranty
Corrugated
Minimum roof pitch: 8 degrees

Effective cover: 762mm

Thickness: 0.4mm

15 year warranty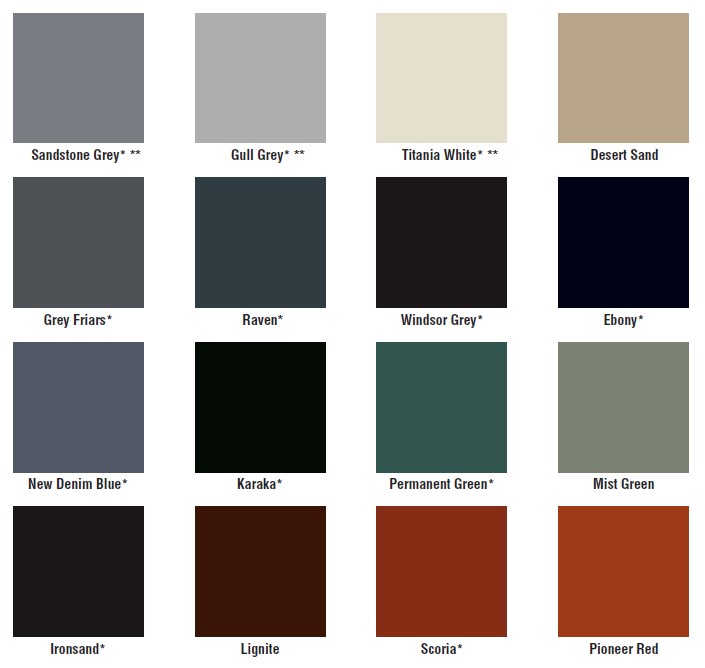 Note: It is difficult to display colours on a screen. We have displayed two different versions. We also have small samples available to view at or Auckland store.