Our Rangiora store will be closed 9 – 21 Feb
Auckland and Starcover premium deliveries (online or phone orders) will still be available during this time
Auckland store

09 390 4414
Text: 027 274 4414

26 Dolbear Street
Titirangi

Christchurch store

03 313 2325

171 Ashley Street
Rangiora

For pick up only. Our Christchurch store does not organise online orders, please email us regarding those.
Open:
Mon-Sat by arrangement, please call us first to arrange a time
Notes
We operate from a residential address
We accept EFTPOS (no credit cards), cash or cheque upon pick up
Generally not available on public holidays and long weekends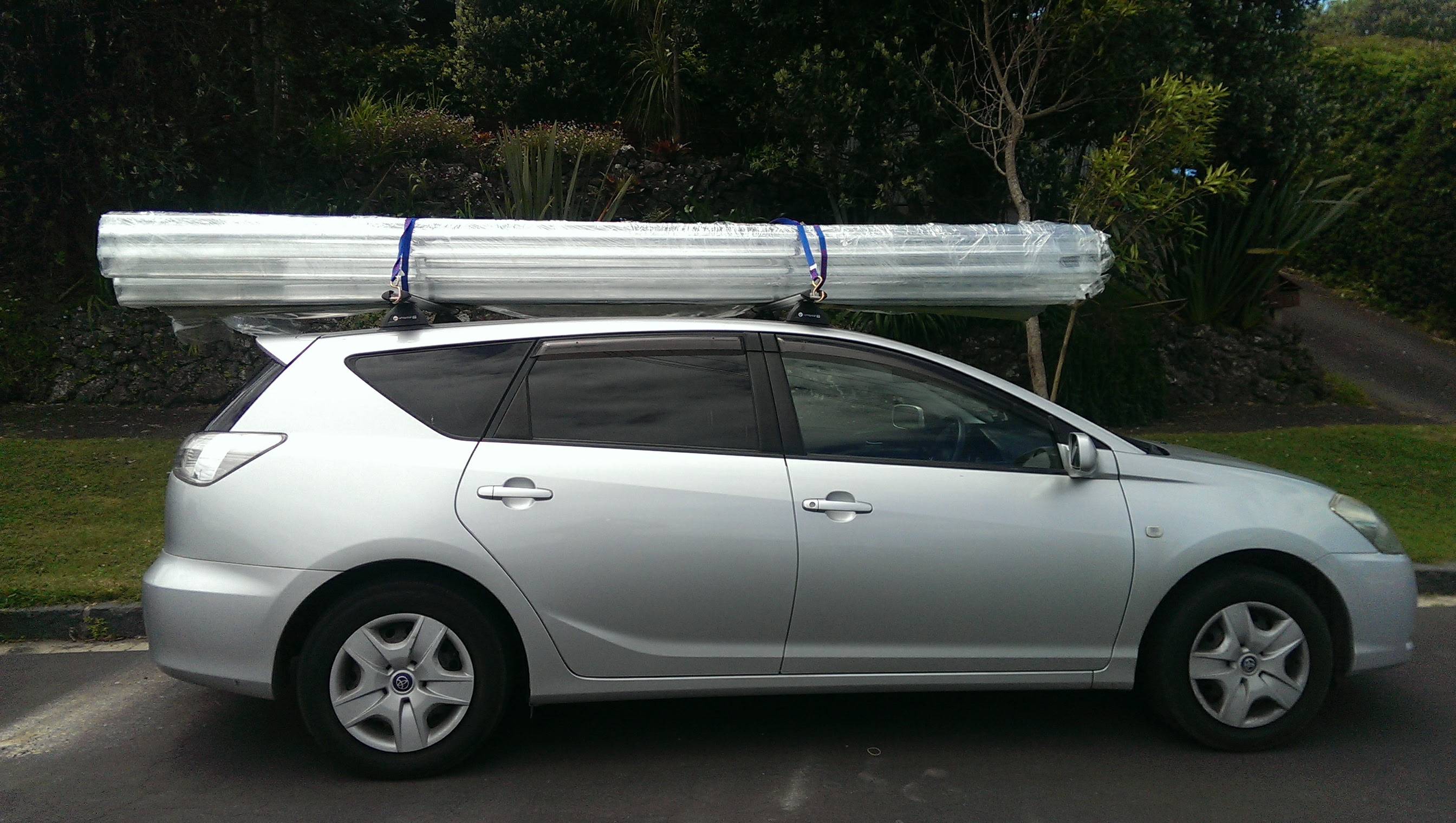 We can roll the roofing sheets into a tube for easier transport
How we can help you
We would never sell anything we wouldn't be happy using ourselves. There's nothing worse than inferior tools and products, and what you may save in cost is certainly made up in frustration and lost time. We've used all our products ourselves and love them.
We aim to have the lowest price polycarbonate roofing in NZ. A grand aim but we can do it because we don't have huge overheads.
We are Licensed Building Practitioners (LBP) so we know and trust our product, and we can give you advice for your project. We'll provide the personal service and advice that you need.
We stand behind our product. We've had some defects in a product we used to stock (which we certainly don't anymore) and there were quite a few returns. We replaced all of them.
Our story
We've been around since 1963 and we've certainly seen some changes since then!
Car-cases and brick phones
We started off buying car-cases from the various car manufacturers around the country (back when cars were still assembled in NZ). We'd then turn them into all sorts of things like sheds, dog kennels, fences, playhouses, anything you could dream of really. Funnily enough, we still get the occasional customer saying "I remember when you were down Waikaukau Rd, you built a garden shed for me". A lot of those sheds are still standing!
Business was good and we even invested in a new technology for our delivery vehicle – a car phone. It had a handset which connected with a cord to this big base unit about as big as a phone book, and as heavy! Revolutionary.
The death of the small players
Once they stopped assembling cars here we moved into various building products and did that for another couple of decades. Then giant home-improvement stores such as Mitre 10, Placemakers and Bunnings started becoming popular, and most small players slowly disappeared. We hung on for a while but we could see that the future of small-scale building supplies was dim.
So we started contracting and over the next few years we did hundreds of renovations and new house builds. We made sure we stayed up to date with current products and procedures, with Eric (the boss) becoming a Licensed Building Practitioner (LBP).
Power to the people
We were still supplying various building products, but it wasn't our core business. Enter the power of the internet. Whilst we couldn't compete with mega-stores on range and location, suddenly we could not only compete, but halve their price on certain products. So we decided to start selling polycarbonate roofing. This was a product we were quite excited about and had used extensively in the past.
We secured a supplier (who actually supplies three other well-known companies here with the same product- don't worry, we're the cheapest), and decided to build a lean mean polycarbonate roofing business.
We don't have the massive overheads that everyone else has, and are not here to build an empire. No shiny big building with dozens of staff waiting around for someone to walk in. No flash company cars with sales reps traveling the country. Just good quality polycarbonate roofing at the best price you'll ever find (trust us, we've looked).