ClearSpan Glazing Bars
$41 – $542
Description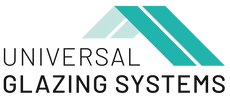 The ClearSpan structural glazing assembly by Universal Glazing Systems is a unique system designed to provide a joining, mounting, and sealing solution for various glazing materials.
Suitable for glass, flat polycarbonate, Twinwall, and acrylic, it is simple and effective.
It uses a top-cap compression clamping method to provide a positive clamping pressure onto the sheet. This creates an effective weather tight seal.
The system can accommodate glazing sheets from 4mm up to 16mm thick.
The ClearSpan glazing bar assemblies are available in 4050mm and 6050mm lengths, but can be cut to length on request.
Bar system (to go on top of existing rafters/purlins) or box system which has an integrated rafter
Powdercoat (Dulux range) or mill aluminum finish (2 week lead time on powdercoating)
Each bar/box comes with: glazing bar base extrusion, top cap extrusion, top can infill extrusion, stainless steel top cap compression screws, end plates (with screws, 2 per bar assembly) plus rubber gaskets
For more detailed information, click on the instructions and spec sheets below.
Note: These are sent from a separate supplier, so will come on a different truck than anything else ordered from us.
---
F150 Bar Assembly
For on top of existing rafters
$161 - Mill finish 4050mm
$240 - Powder coated 4050mm
$238 - Mill finish 6050mm
$327 - Powder coated 6050mm
---
F150 Box Assembly
Has an integrated rafter
$290 - Mill finish 4050mm
$373 - Powder coated 4050mm
$428 - Mill finish 6050mm
$542 - Powder coated 6050mm
---
F150 Edge Spacer
To go on outer edge of joiners where there is no sheet
$41 - Mill finish 4050mm
$57 - Powder coated 4050mm
$66 - Mill finish 6050mm
$103 - Powder coated 6050mm
---
F150 Brackets
For various mounting options
$41 - Saddle bracket mill finish 100mm
$47 - Saddle bracket powder coated 100mm
$50 - Hanger bracket mill finish 100mm
$56 - Hanger bracket powder coated 100mm

---
Specifications and installation