Crystalite Glazing Panels
$261 – $558
Description

Alsynite Crystalite is a 6mm flat solid roofing panel.
Create an elegant yet contemporary style for your outdoor area with Crystalite glazing panels. Shatter resistant and 250 times stronger than glass – yet with half the density – a high impact durability doesn't stop these panels from allowing up to 92% of visible light to filter through.
Sheet width: 620mm
Lengths: 3m, 4m, 6m
Thickness: 6mm
Colours: Clear, Grey, Diffused Opal
15 year loss of light and weather breakage warranty
Minimum roof pitch of 5°
Not available for pick up (sent direct from factory) – nationwide delivery $35 (click here to view delivery map)
As the panels are heavier than our standard polycarbonate roofing, someone will need to be there to assist the driver upon delivery.
Click here to view our polycarbonate roofing forums and ask any questions about the product.
Sometimes referred to as perspex or plexiglass (which are different products), these are similar to the Clearvue transparent acrylic roofing panels available from Bunnings.

---
Pricing and availability
You can order and pay online. Or email or call us with your order, we can send you an invoice for credit card or direct debit payment.
Clear
620mm x 3.0m $261
620mm x 4.0m $347
620mm x 6.0m $521
Grey or Diffused Opal
620mm x 3.0m $279
620mm x 4.0m $372
620mm x 6.0m $558
ClearSpan glazing bars also available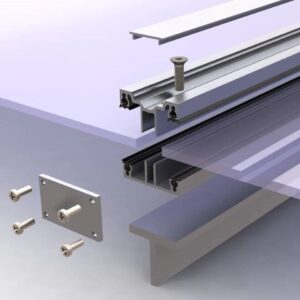 ---
Brochure and warranty