Suncover Polycarbonate Roofing
$21 – $102
Description
SUNCOVER Corrugated or Greca polycarbonate roofing sheets
Delivery available nationwide for $35 (click here for delivery map)
Limited lengths and colours available for pick up in Auckland or Christchurch
-10 year warranty against discolouration and brittleness
-Tough, optically clear, high quality
-Suitable for awnings, pergola roofing sheets, carports, greenhouses, gazebos, entrances, porches, walkways, conservatory roofing panels…and much more!
SUNCOVER polycarbonate plastic roofing sheets
Click here to view our polycarbonate roofing forums and ask any questions about the product.
---
Prices:
Clear, bronze tint, grey tint or opal (opal not available in Greca)
Corrugated or Greca profile
Corrugated price
-1.8m $21
-2.1m $24
-2.4m $27
-2.7m $31
-3.0m $34
-3.6m $41
-4.2m $49
-4.8m $56
-5.4m $70
-6.0m $78
-7.2m $94
Greca price
-1.8m $26
-2.1m $30
-2.4m $34
-2.7m $38
-3.0m $43
-3.6m $51
-4.2m $59
-4.8m $68
-5.4m $76
-6.0m $85
-7.2m $102
Accessories
Polycarbonate fasteners from $35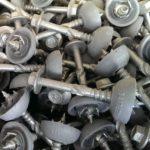 Noise stop tape $36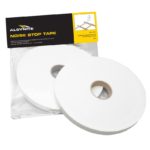 Polycarbonate flashings from $59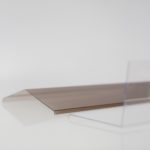 Metal back channel from $72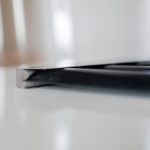 Foam infill from $3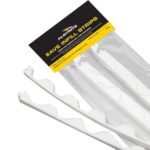 ---
Availability:
All options are available for delivery directly from our supplier.
The following limited options are available for pick up from our Auckland or Christchurch store:
Corrugated only, in clear or bronze
2.4m
3.0m
3.6m
4.2m
A limited selection of fasteners, foam, tape, and flashings
---
Specifications:
-Corrugate 840mm wide (760mm cover)
-Greca 815mm wide (760mm cover)
-0.8mm thick
-99.5% 4th generation UV protection

Light transmission / Heat reduction:


Technical specifications:
SUNCOVER 0.04mm UV protective coating co-extruded
SUNCOVER 99.5% UV protection within UV wavelength 290nm-400nm
Chemical name: Polycarbonate (poly-bisphenol-a-carbonate)
Thermal conductivity: 0.2 W/m C
UV-coating material: SABIC LEXAN EX7681T combined with SABIC LEXAN SLX1432T
Thermal expansion: 6.5 x 10(-5) cm/cm degC
Tensile strength: 630 kg/cm2
Flexural strength: 920 kg/cm2
Afterflame time: <30 sec
Polycarbonate roof sheets are the same profile as Coloursteel, iron and other polycarbonate, clearlite, PVC, plastic and clear lite products such as Suntuf, Tufclad Ultra, Laserlite, Solar Shield, Sunthru, Polysun, Eurolite, Solasafe, Norwest, Calypso, Astrolite, Sunline and SolarTuff.
---
Installation and warranty: