Description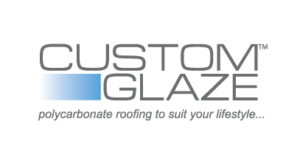 Alsynite Custom Glaze is a great looking, flat (with joining ridges), polycarbonate roofing product. It's designed to look similar to a glass or acrylic roof, without the cost or complicated installation system.
Not available for pick up (sent direct from factory) - delivery available nationwide (click here for delivery map)
Overlapping ribs at 610mm centres (usually hidden by the rafters), eliminating the need for expensive glazing systems
Purlins at 1500mm apart allowing a greater flat, clear area
A full flat pan of 540mm, giving a solid flat look without corrugations
2mm thick
99.9% UV protection
NZBC Fire group rating 1-S
20 year weather breakage and 15 year loss of light warranty
Note: Care must be taken during installation to ensure the sheets are pulled taught, and overlapped correctly. This is so you don't get a bow or ripple effect in them. They are more difficult to install than a standard corrugate profile, and usually require two people. It's also important that they have at least a 5 degree fall, the steeper the better, they are still quite flexible. Sheets also have a 5mm width tolerance (i.e. coverage could be 605mm or 615mm) so best to measure them first, before installing the rafters.

---
You can order online, or 
email
 or call us with your order. We will send you an invoice for credit card or direct debit payment.
Clear, bronze or grey tint


1.8m $68
2.1m $80
2.4m $92
2.7m $104
3.0m $116
3.6m $136
4.2m $160
4.8m $184
5.4m $208
6.0m $232
7.2m $272
Diffused opal (you can't see through this, but it still allows diffused light through)
1.8m $85
2.1m $100
2.4m $115
2.7m $130
3.0m $145
3.6m $170
4.2m $200
4.8m $230
5.4m $260
6.0m $290
7.2m $340

---
Videos, installation and warranty
Introduction to Custom Glaze
How to cut polycarbonate roofing