Premium Polycarbonate (delivery only)
$28 – $168
Description
STARCOVER premium polycarbonate roofing sheets
-15 year warranty against discolouration and brittleness
-Premium quality polycarbonate clear plastic roofing sheets available in corrugate, Greca and 5-Rib
-Suitable for commercial buildings, designer homes…and much more!
Prices:
Clear, bronze tint, grey tint or opal (opal not available in Greca or 5-Rib)
Corrugated, Greca or 5-Rib (5-Rib price in brackets)
-1.8m $28 ($42)
-2.1m $33 ($49)
-2.4m $38 ($57)
-2.7m $42 ($63)
-3.0m $47 ($70)
-3.6m $56 ($84)
-4.2m $66 ($99)
-4.8m $75 ($112)
-5.4m $84 ($126)
-6.0m $94 ($141)
-7.2m $112 ($168)
Click here to view a comparison chart of all polycarbonate roofing products available in NZ.
Specifications:
-Up to 840mm wide (760mm cover)
-0.8mm thick
-99.9% 4th generation UV protection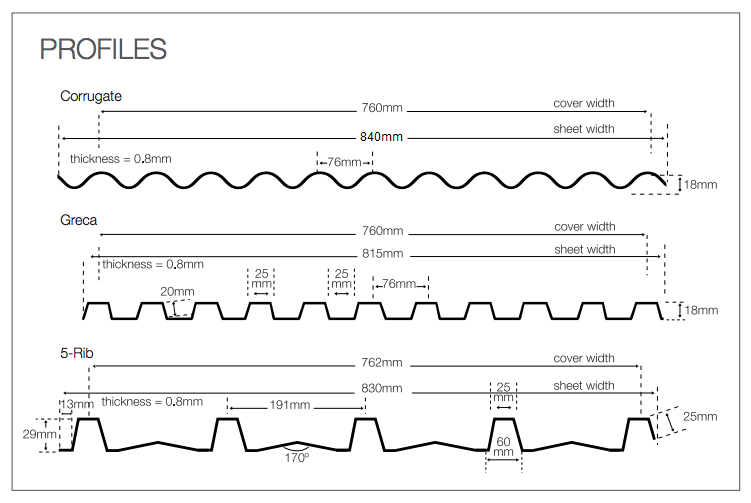 Note: The 5-Rib profile fits Dimond Styleline or Metalcraft T-Rib roofing profiles.
Light transmission / Heat reduction:

Additional information
| | |
| --- | --- |
| Sheet profile | 5-Rib, Corrugated, Greca |
| Sheet length | 1.8m, 2.1m, 2.4m, 2.7m, 3.0m, 3.6m, 4.2m, 4.8m, 5.4m, 6.0m, 7.2m |
| Sheet colour | Bronze, Clear, Grey, Opal |