Bronze and clear colours (which we always have in stock)
We're often asked 'just how dark is the bronze polycarbonate colour?'
It can be quite hard to tell just off the photos, however hopefully the following information should help a little more!
If you're really stuck, feel free to call us and you can come round and see for yourself. We can hold a sheet up to the sky and you can stand under it to see just how much light it blocks out. We can also send samples out first.
As a comparison, the clear sheets let 92% of light and 100% of heat through. The bronze sheets let 46% of light and 72% of heat through. So the bronze does block out 46% more light than the clear.
The bronze does let enough light through for you to read or work under during full daylight, however it does get noticeably darker once it gets cloudy or the sun starts going down.
If you're putting sheets up on on, say, a deck or awning and there are windows below where the sheets are going, we would suggest using clear sheets. This is so they let the maximum amount of light through them and through the windows below them.
Note, both the bronze and clear block out 99.5% of harmful UV rays. This is because the UV protection is applied to the top side of the sheet, and has nothing to do with the colouring in the sheet.
Below is a large photo showing both the bronze and the clear against the sky: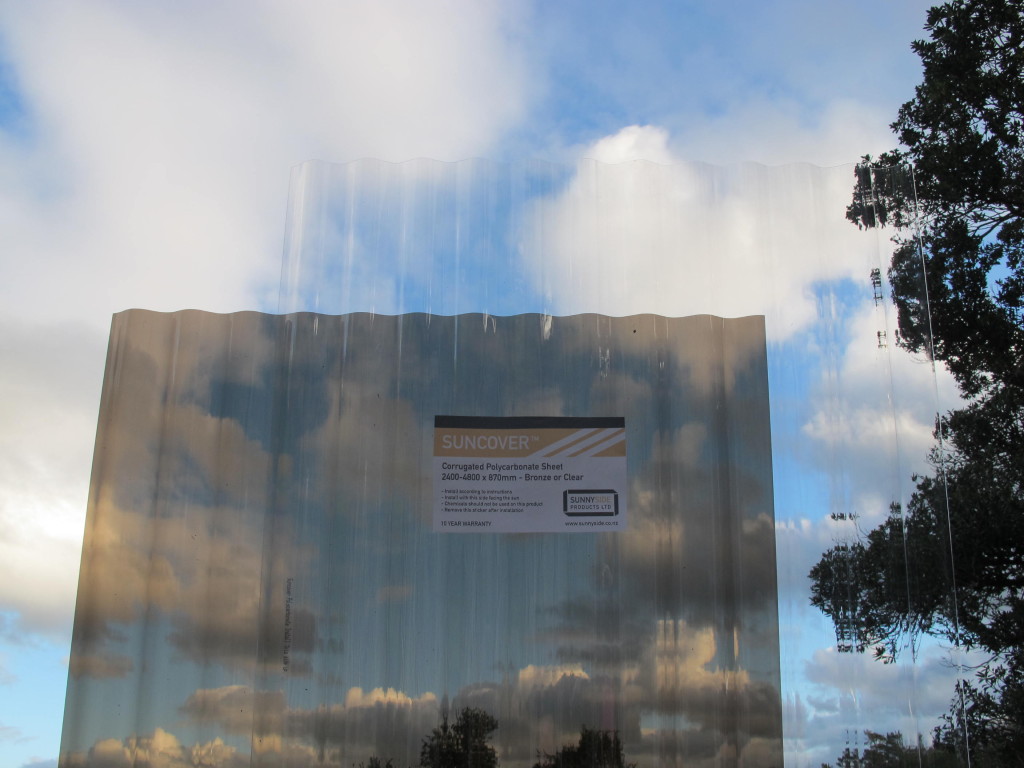 We stock clear and bronze sheets from 2.4m up to 4.8m in our two stores. We can also get 5.4m, 6.0m and 7.2m in clear or bronze as a special order. These are for delivery only, we don't bring them into our stores.
Grey or opal colours (which we can get as a special order)
We can also order grey or opal in any length as a special order – delivery only.
With regards to the four colours available, here is some more information:
Light transmission / Heat reduction:
Clear – 92% / 0%
Bronze – 46% / 28%
Grey – 24% / 39%
Opal – 56% / 59%
Below is a photo and a video showing all four colours:
Clear – pretty much 100% clear, you see a slight distortion through them but not much.
Bronze – blocks out just over 50% light but you can still see clouds, objects through it etc.
Grey – blocks out about 75% light, so darker than the bronze, and more grey rather than bronze/brown.
Opal – lets quite a lot of light through, you just can't see through it. You'll see shapes/shadows but won't be able to make anything out.