Outdoor Roofing and Shade
Devan Tanks: a wet winter winner
Make the most of the rain over winter with a new product added to our line up. With ongoing water shortages (especially in Auckland), this could be a good idea!
Devan Water Tanks are manufactured from the highest quality food grade polyethylene, giving long life and trouble free service.
Did you know polyethylene cannot rot or corrode?
It's also UV-stabilised for New Zealand's harsh environmental conditions and won't leach or taint your drinking water.
The unique Devan space frame provides maximum strength in the dome of your tank, which means it won't pop in when you are installing or servicing your tank – nor will snow loading have an effect.
Devan Tanks are the only large water tanks in New Zealand that come with brass moulded-in outlets.
Having metal outlets allows for easy plumbing, significantly reducing the chance of leaking and helping to reduce cross threading.
Above ground water tanks are the preferred choice for water collection and storage, saving both time and money on installation with significantly less site preparation.
• Leak-free, easy access storage
• Capacity of 600 litres up to a massive 30,000 litres
• 20 year warranty on all domestic tanks
• Free delivery nationwide (check for remote locations or islands first)
• 11 different colours
Browse options on our website.
And as always, feel free to contact us anytime! We're happy to talk through tips, ideas and advice on how Devan Tanks can best work for you.
Kiwis and our no.8 wire
Around the world, we Kiwis are renowned for our innovation, creative solutions, and willingness to improvise and adapt in order to get the job done.
We're inventive, practical and resourceful.
Our love of DIY shows it! And not only will we try our hand at most things, we'll gladly help out a fellow Kiwi when we can.
Here at Sunnyside, we're no exception. We love to share any tips and know-how we have, and we love to keep learning.
View our "how to" videos, or drop us a line with your favourite tips and ingenious solutions. Who knows – maybe you'll be featuring in our next instructional memo!
But first, a quick test to find out just how tough polycarbonate really is…
A history of helping
Here at Sunnyside, apart from offering a vast and varied online store, we love to provide a helping hand whenever we can.
The opportunity to be 'hands on' with customer service is more than just a preferred business model or an extra bonus we offer.
A practical helping hand is the ethos with which our company began.
In the 1960s, my grandfather, Bram Breetvelt, set up the original Sunnyside business.
Back then, Sunnyside was all about upcycling car cases into simple yet practical wooden sheds. Talk about helpful ingenuity!
By the time my father, Eric Breetvelt, took over the operation, Sunnyside had shifted into the timber business. But eventually, the rise of big box stores made the timber business unsustainable. Sunnyside once again shifted sideways into another avenue (polycarbonate roofing) and I took over the helm…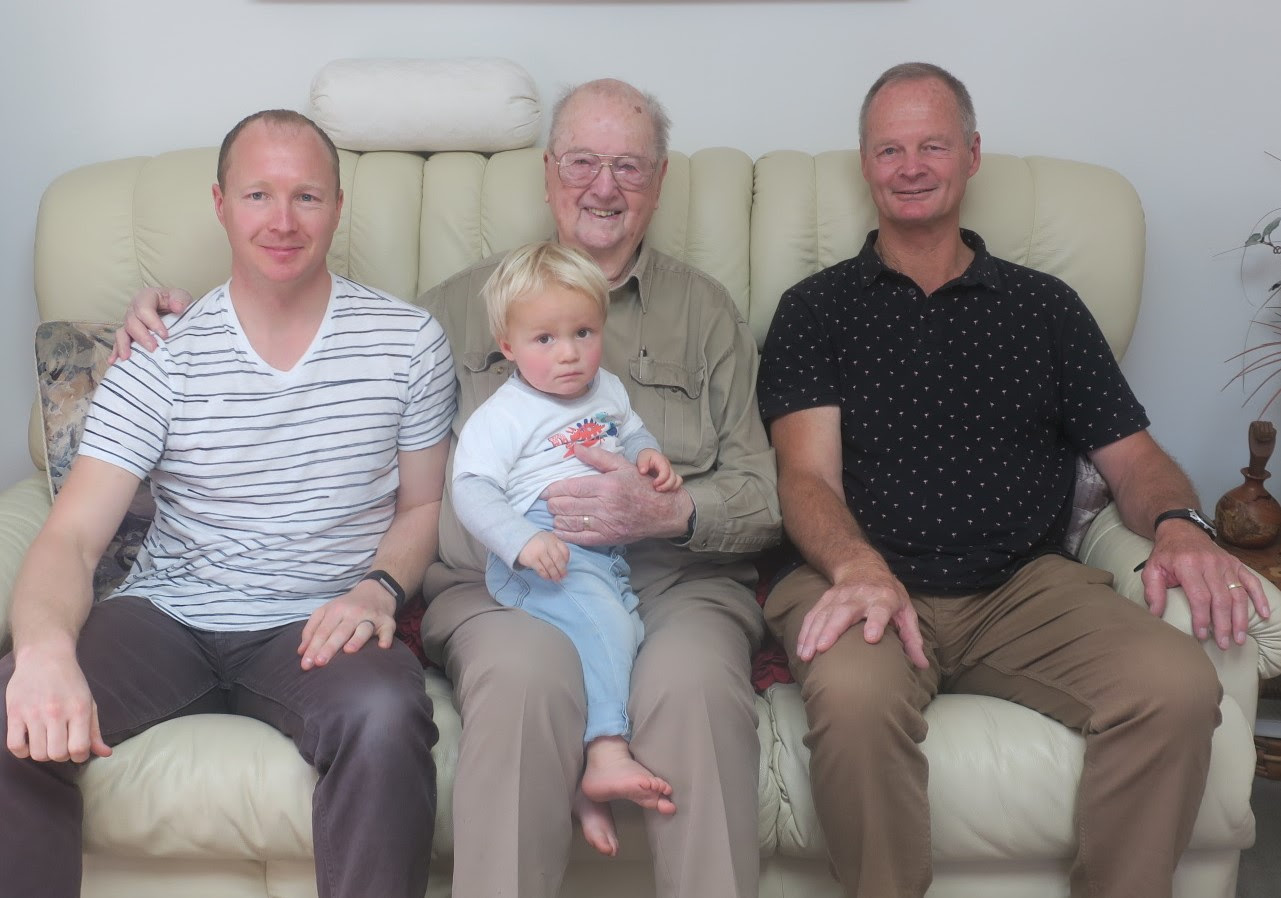 Four generations of 

Sunnyside

 managers!
We've changed products and faces several times over the years, but our most important aspects haven't changed.
Our push to bring the best quality deals to the market, our drive for exellence in customer care and solid products, and our extensive practical knowledge – quite literally passed down through the generations – remains as strong as ever.
Sunnyside has always been about bringing our best to the table – whether online, on the phone or in person.
I'm the third Breetvelt to bring you both the genuine care and high quality that makes Sunnyside the renowned and proven supplier that it is.
Whatever your roofing needs, project ideas or DIY conundrums, just reach out and ask.
From 1966, to today, and beyond – we're here for you.
Until next time,
Kurt